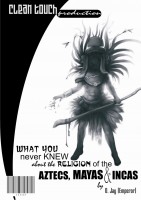 $2.99
What You Never Knew About the Religion of the Aztecs, Mayas and Incas
Discover the mysteries and myths of the ancient religious practices of the Southern and Northern people of the Americans.
The book x-rays their religious beliefs, lives and practices. If really you want to know intimately about the religious of these people you don't have to go and buy three different books.
To get your copy, simply visit any of your favorites e-book retailers or visit the link https://www.smashwords.com
$2.99
The Secrets to Speaking to Your Destiny and Causing It to Manifest!
With a combination of partial voice in scholastic, scientific, philosophical, inspirational and religious writing, enclaves with a cutting edge smoldering with idealism, Musa Joel, Winner of Academy Scholarship Award, unveils the power of your self-fulfilling prophecy - the art of speaking to your destiny, demanding the best out of it and declaring it into manifestation!
So it's time to stop leaving your destiny to chance and allowing the negative assumptions of the significant adults in your life betray and control your destiny. Too often, these assumptions or prophecies, like nuclear weapons, ballistic missiles, rocket launchers, unilateral disarmaments, war machines and more, reflect the reasons why you've hitherto submitted to fear, uncertainty, failure and had continue to revolved within your own limiting orbits!
This book will show you the tragedy of how many of us are familiar with the wonders of modern science and technology, ancient antiques , scientific and archaeological discoveries that have outlasted so many centuries, generations, nations, and races and yet, are grossly unaware and totally unfamiliar with the immense power we possess to withstand the most daunting challenges of life.
To get your copy, simply visit any of your favorites e-book retailers or visit the link www.Omnilit.Com
The Academic Award Winner and consummate eBook writer, Musa Joel, delivers compelling story that would appeal to anyone in romantic relationship, and regardless of mood or mode, pulls the readers into understanding the mystery of wine in romance and dating as illustrated from the Marriage in Cana of Galilee.

This over 80 book pages, unlike anything else you have read anywhere, and with great depth and much candor, is but only one when it comes to understanding the mystery of wine in romantic relationship, and how to have an active, satisfactory sex live, love and romance in marriage.
Joel will guide you through the mysteries that unveiled itself in the marriage in Cana of Galilee where Jesus turned water into wine, and how, through that illustration, you can restore love, romance and intimacy back into your relationship - as it was "from the beginning!" Musa Joel, in this book, fastened his pace with his poetic artistry as he serenades to convince everyone that marriage is not "a thorn in the flesh"; and dealing with the concept of uncurling a-once-promising relationship in two of the chapters in Shifting Shadows: How to Deal with Days after the Honeymoon is Over, explore the biblical, psychological, emotional, and physical aspect of the marriage that took place in Galilee more than 10 centuries ago.
Shifting Shadows: How to Deal With Days After the Honeymoon is Over begins with a personal, true life story of the author's encounter with a cute and beautiful angel whose maneuvers and strategies created a spell-binding effect on him, thus breaking down his resistance factor which invariably gave him reasons to lose concentration, and finally induced him to surrender to the fight.

Here in this book, you'll gain new insights on:
Understanding the mystery of wine in romantic relationships

How to overcome divorce when the wine-press stops running in your marriage

How to give Jesus those empty water pots of your marriage (or relationship) so He could refill them and turn them into wine

How to bring back the days of sweet honeymoon in your marriage/relationship

How to know that God is interested in your sex live, marriage and more!
Furthermore, this book, Shifting Shadow: How to Deal With Days After the Honeymoon Is Over chronicles years of research into Christian relationship, love, sex and romance, and would encourage you to really get progressive with your date and stay fit. After reading this impassionate book, you will be overwhelmed with so much joy and pride to know that God is really interested in your relationship and sex live and everything in the mix, and that no matter how melancholy, drudgery or uninteresting your relationship has been, still, your relationship can have a boost of fresh love and meaningful romance!
At the end of this impassionate book, you can send your questions or comments to the address, email or phone provided. Answers to all questions are checked with relationship specialists.
So don't sign out from that relationship yet! There is more in store for you. You have no right to quite until you read this book, Shifting Shadows: How to Deal With Days After the Honeymoon Is Over, and begin to live an unlimited love life with your spouse as it was from the beginning.